| | |
| --- | --- |
| Posted by Melissa Houston on October 26, 2012 at 3:30 PM | |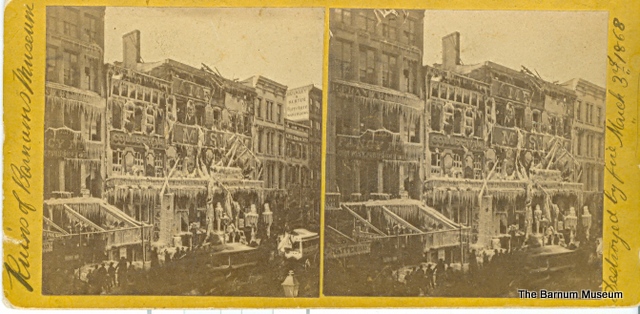 This week's "Photo of the Week" shows the remains of Barnum's American Museum in 1868.  Barnum's first museum had burnt down in 1865 and it had taken time and a great deal of effort to get the institution back on its feet, but it burnt down again in under three years.  On March 3, 1868, in the middle of horribly cold winter, the second museum was destroyed. One should note that the picture shows that the museum was not only destroyed but also frozen over.  The day was so cold that the water used to put out the fire froze almost as soon as it touched air!  Spectators marveled at the ice as speculation mounted that the fire was instigated by Confederate spies in New York City.
The "Photo of the Week" highlights pictures from The Barnum Museum's collection.  The photographs can bee seen at: barnummuseumexhibitions.org,along with a brief description of the person, place or thing within the picture.  The "Photo of the Week" can also be found on Facebook.