| | |
| --- | --- |
| Posted by Melissa Houston on December 9, 2011 at 8:30 AM | |
In 1844, PT Barnum set across the 'pond' with Tom Thumb.  Their first stop was in Liverpool and then on to London.  In London, Barnum desperately wanted an audience with Queen Victoria and Prince Albert and set about making all the right connections and entertaining all the right guests.  Tom Thumb's performance at Princess's Theatre secured Barnum a fine fortune and a large following, as the London Illustrated News shows below.

Barnum made friends with the American Minister, the Baroness Rothschild, the Master of the Queen's Household, and numerous blood-aristocracy and successfully gained an invitation to perform before the Queen.  Barnum was instructed not to coach Tom Thumb on court formalities so that the Queen could interact with him "naturally and without restraint".  Barnum was required to follow protocol; however, he did manage personal conversation with Queen Victoria to the chagrin of the Lord in Waiting!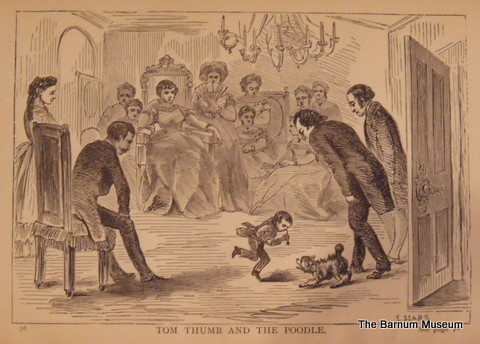 The illustration above shows the humorous incident that closed their first - of three - formal visits to the Queen in 1844.  Backing out of the room, as was customary, Barnum chose a pace that required Tom Thumb to turn and run every few moments to catch up.  This excited the Queen's "poodle-dog" and caused Tom Thumb to have to square off with the dog using his cane as a sword!  A small battle ensued and Queen Victoria was concerned for the well being of Tom Thumb.  PT Barnum assured her that the small performer was fine and over the course of his European tours he would continue to visit the Queen.