| | |
| --- | --- |
| Posted by Melissa Houston on October 21, 2011 at 3:20 PM | |
Tom Thumb received the royal treatment when he visited London and performed before Queen Victoria.  In fact, a carriage was "manufactured by order of the Queen Victoria, of England, and presented by her Majesty to the little General", according to a biography of Tom Thumb published in 1849 after his European tour.  Not only was it elaborately decorated and furnished, but the Queen presented him with ponies and two boys to serve as his Coachman and Footman!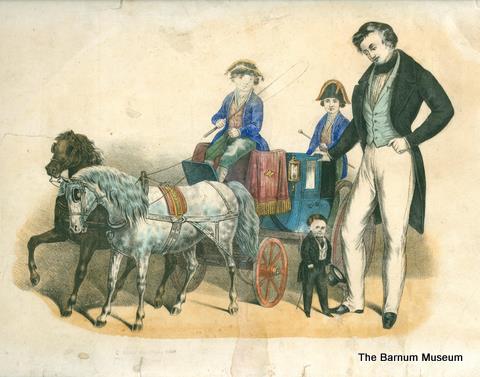 The Barnum Museum has two of Tom Thumb's many carriages in its Collection.  One of which was on display in the first floor gallery where the windows were blown out by the tornado and where the debris that was brought in with the wind acted like fine sandpaper across every surface.  While some of the damage seen in the "before" photograph below is previous to the tornado, any painted surface suffered hydrothermal shock - a drastic change in temperature and humidity that greatly affects surfaces likely to retain moisture.  Paint literately fell off surfaces on the carriage to the display platform below.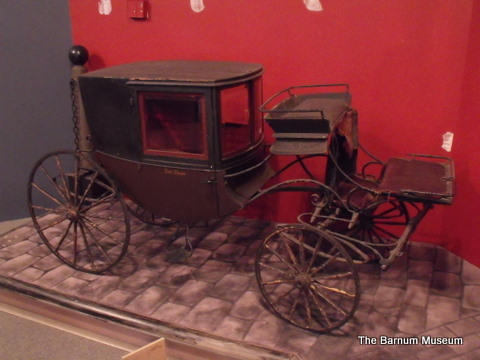 This carriage has been a focus of Chris Augerson, a carriage conservator who worked on the gilded carriages of Louis XIV at Versailles in Paris.  His work has been painstaking.  A basic tenet of conservation is that every treatment must be reversible.  So, for example, the carriage's wheels were coated with a thin layer of varnish before infill painting was done.  In the future, as the science of artifact conservation changes, the paint can be removed without injury to the carriage itself if necessary.  The beautiful result can be seen below!  The textiles on the carriage including the red velvet interior and burgundy coachman's seat are still awaiting treatment.