| | |
| --- | --- |
| Posted by Melissa Houston on October 25, 2013 at 9:05 AM | |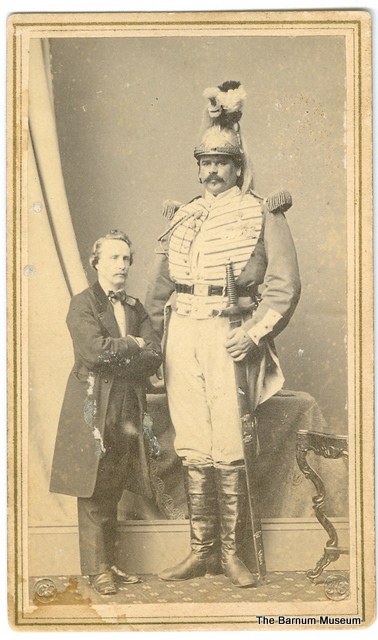 This week's "Photo of the Week" is of Arthur James Caley, otherwise known as "Col. Routh Goshen". Although there is controversy over his birth date, it is presumed to be on May 5th, 1837. Goshen travelled with Barnum and worked in Barnum's American Museum in New York City. He was billed by P.T. Barnum to be the tallest man in the world at 7ft, 11inches and weighing over 620lbs - an obvious exaggeration. Goshen was married three times and divorced twice. He had an adopted daughter, Frances Sylvester, who travelled with him and may have even danced for Queen Victoria. Col. Routh Goshen died February 12, 1889 in Middlebush, New Jersey and was forever immortalized as the Middlebush Giant.
The "Photo of the Week" highlights pictures from The Barnum Museum's collection. These pictures are posted on our website at: www.barnummuseumexhibitions.org, along with a brief description of the person, place or thing within the picture. The "Photo of the Week" can also be found on Facebook.