| | |
| --- | --- |
| Posted by Melissa Houston on November 1, 2013 at 9:00 AM | |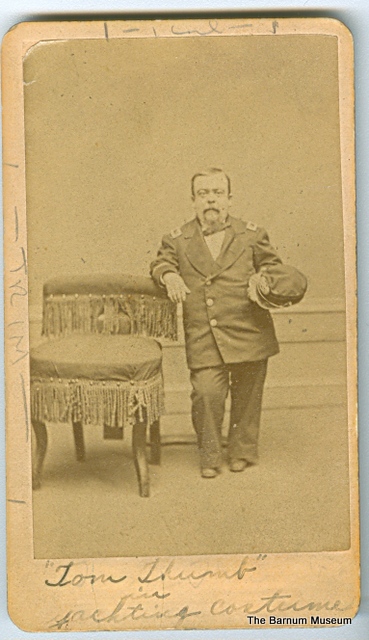 This week's "Photo of the Week" is of Charles Sherwood Stratton, otherwise known as "General Tom Thumb". Stratton was born in Bridgeport, CT on January 4th, 1838 and was "normal sized" until he was around 6 months old, when he stopped growing. When Stratton was 18yrs old, he was measured to be 2ft 8.5in tall and only grew about half a foot before his death at the age of 45. Despite being small in stature, Stratton was one of Barnum's biggest attractions and became a very wealthy international superstar. He owned, and raced, a yacht called the 'Maggie B' which docked in Bridgeport. Here he is pictured in his yachting costume.  
The "Photo of the Week" highlights pictures from The Barnum Museum's collection. These pictures are posted on our website at: www.barnummuseumexhibitions.org, along with a brief description of the person, place or thing within the picture. The "Photo of the Week" can also be found on Facebook.