| | |
| --- | --- |
| Posted by Melissa Houston on October 11, 2013 at 9:00 AM | |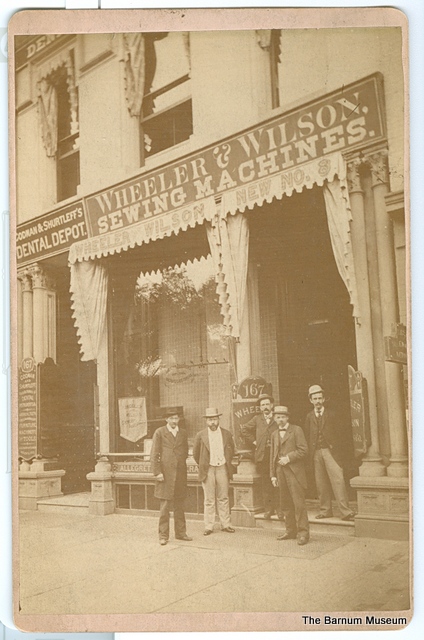 This week's "Photo of the Week" is of the "Wheeler & Wilson" storefront in downtown Bridgeport, Connecticut. The sewing machine company moved from Watertown, CT to Bridgeport in 1856 and was located at the old "Jerome Clock Company" factory. Wheeler & Wilson sewing machines were a household name and changed Bridgeport forever by making it a fashion industry capital of Connecticut. Nathaniel Wheeler, business partner with Allen B. Wilson who invented the cloth-feeding mechanism on the sewing machine, owned a large Gothic mansion in Bridgeport and was friends with P.T. Barnum.  In 1905, Wheeler & Wilson was taken over by the "Singer Corporation", who continued to make the Wheeler & Wilson #9 model machine until around 1913.
The "Photo of the Week" highlights pictures from The Barnum Museum's collection. These pictures are posted on our website at: www.barnummuseumexhibitions.org, along with a brief description of the person, place or thing within the picture. The "Photo of the Week" can also be found on Facebook.