| | |
| --- | --- |
| Posted by Melissa Houston on October 4, 2013 at 9:00 AM | |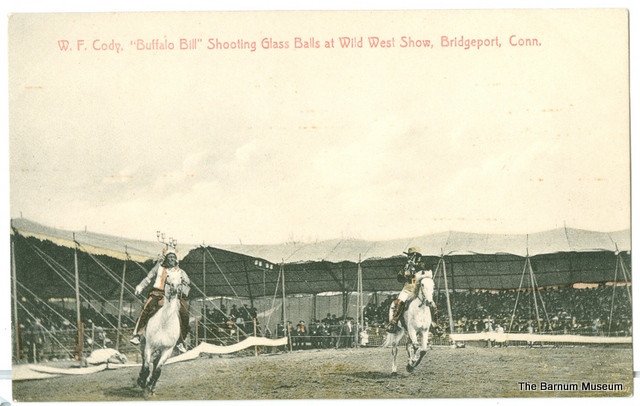 This week's "Photo of the Week" is of Buffalo Bill Cody performing his "Wild West Show" in Bridgeport, CT. The title of the post card reads "W.F. Cody, 'Buffalo Bill' Shooting Glass Balls at Wild West Show, Bridgeport, Conn." The photo depicts two men riding white horses. One man is dressed in Native American attire, while the other is dressed in Cowboy attire. Buffalo Bill made a dozen trips over a span of 42 years to Bridgeport, including trips to winter his show with Barnum's circus, but it is believed that this photograph is from either his May 20th, 1907 show or his May 8th, 1912 show, due to the dating of the post card. Buffalo Bill was known worldwide and travelled throughout Europe and North America.
The "Photo of the Week" highlights pictures from The Barnum Museum's collection. These pictures are posted on our website at: www.barnummuseumexhibitions.org, along with a brief description of the person, place or thing within the picture. The "Photo of the Week" can also be found on Facebook.