| | |
| --- | --- |
| Posted by Melissa Houston on October 5, 2012 at 2:25 PM | |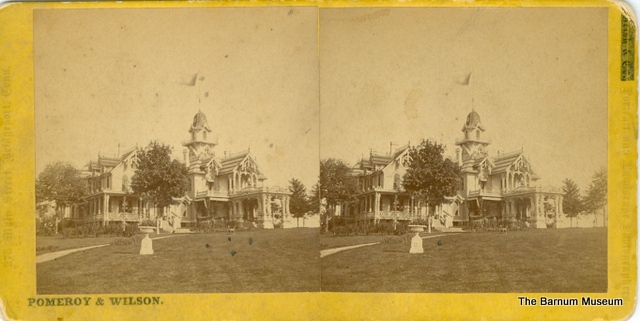 This week's photo shows Waldemere which was Barnum's third mansion in Bridgeport and the last which he shared with his wife Charity.  Charity Barnum was rather sickly in the last years before her death in 1873, and it was suggested by doctors that she move to the shore for her health.  It was for this reason that Barnum built Waldemere.   The mansion by the sea brought his wife a great deal of comfort in her final years.  A newspaper printed an article saying, "we shall never gaze upon its rounding slope of sun-kissed lawn with its rich borders of bright, fragrant flowers, upon its mounds of moss-grown stone and shell, its wooded park and its wave-washed shore without remembering her [Charity] to whom I believe this community are indirectly so deeply indebted for so much that is beautiful about our homes."

The "Photo of the Week" highlights pictures from The Barnum Museum's collection.  These pictures are posted on our website at:  www.barnummuseumexhibitions.org, along with a brief description of the person, place or thing within the picture.  The "Photo of the Week" can also be found on Facebook.