| | |
| --- | --- |
| Posted by Melissa Houston on August 1, 2012 at 11:25 AM | |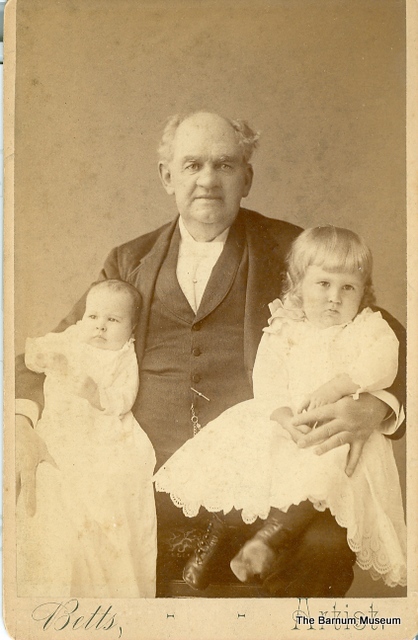 This week's photo is of P.T. Barnum as a family man. The two children in the picture are his grandchildren. By the time Barnum passed away in 1891 he had lived to see not only a great many grandchildren, but a number of his great grandchildren as well. Barnum was immensely fond of his family and he liked to have them all together. He generally invited his entire family over for holidays. One Christmas he included the children so the number of chairs at the dinner table wouldn't number unlucky thirteen!
The "Photo of the Week" highlights pictures from The Barnum Museum's collection. These pictures are posted on our website at: barnummuseumexhibitions.org, along with a brief description of the person, place or thing within the picture. The "Photo of the Week" can also be found on Facebook.
Following a research request on Facebook for the identification of these children, it came to our attention that this is a photograph of P.T. Barnum and his great-grandchildren.  His granddaughter, Helen Barnum Hurd, married Frank Rennell and their children Carita and Henry are in the above picture.  Carita dies at the age of six months.  Henry H. Rennell becomes a favorite of Barnum who refers to the child as "P.T. Rennell".  Perhaps some family traits were passed on!