| | |
| --- | --- |
| Posted by Melissa Houston on September 28, 2012 at 9:45 AM | comments () |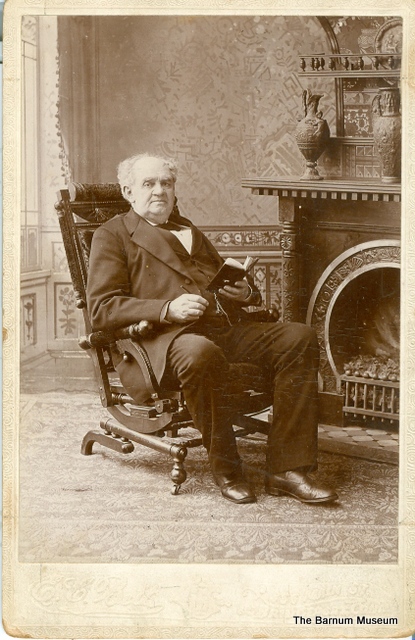 This week's photo is of Barnum reading in front of his fire place.  Aside from the showman antics that Barnum was best known for, he also did a fair amount of writing.  Over the course of his life he published an autobiography titled "Struggles andTriumphs", an advice book titled "The Art of Money Getting", an adventure story book titled "Lion Jack", and a number of other books.  The Ar tof Money Getting can still be found in many bookstores, and some of his other works can be found online in full.
Online purchase made starting Saturday Sept. 29th through Wednesday Oct. 3 at Barnes&Noble will be counted towards a donation to the Museum's Recovery Fund with the use of our Bookfair Code 104740710! Join us, and Barnum, in a love of books, reading, and the Barnum Museum!
The "Photo of the Week" highlights pictures from The Barnum Museum's collection.  These pictures are posted on our website at:  www.barnummuseumexhibitions.org,along with a brief description of the person, place or thing within thepicture.  The "Photo of the Week" can also be found on Facebook.