| | |
| --- | --- |
| Posted by Melissa Houston on January 6, 2012 at 1:35 PM | comments () |
Pa-Ib is perhaps the Museum's oldest resident.  Having been donated to the Bridgeport Scientific Society in 1896, the mummy has been on display and a part of scientific inquiry ever since.  But she came here as a part of a love story...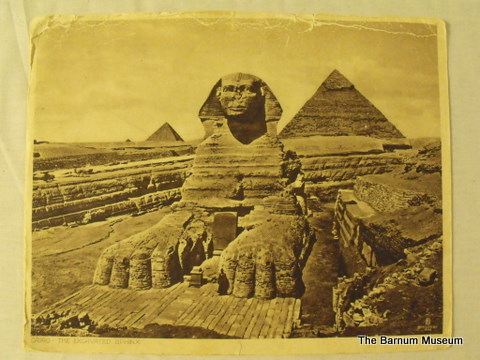 In 1894, Mrs. PT Barnum, or rather Nancy Fish Barnum, was traveling for the first time since Phineas Taylor Barnum's death.  Her trip to Cairo would hot have been complete without a visit to the pyramids.  The Boston Journal reported that: "...She was climbing the Great Pyramid with the assistance of Arab helpers when one of the men slipped and fell.  Mrs. Barnum reeled backward and toppled over to what seemed certain death, but a stranger toiling up the pyramid 10 yards below caught the endangered lady in his arms.  It was the Bey." (Boston Morning News, August 9, 1895)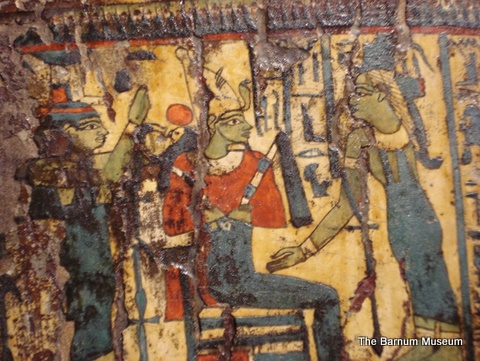 A quick and international romance began between Demetri Callian Bey, a man of great wealth from Constantinople, and Nancy Fish Barnum.  Some papers reporting on their marriage mentioned Nancy meeting him through the American consul at the same time she received her mummy and that it was "love at first sight".  Both individuals being of great wealth, the papers admitted that the marriage must have been for true love - not money.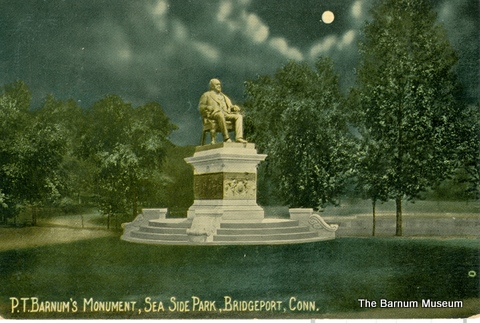 However, after a trip to the mansion PT Barnum built for Nancy in Bridgeport, it was decided that the couple would move abroad.  The reason for the move was explained in the papers like this: "[Bey] was pleased with the place and would have been contented to reside there but for the fact that a bronze statue of heroic size of the late P.T. Barnum is placed in the park directly in front of the house." (Trenton Evening Times, August 8, 1895) A bronze statue was placed at Seaside Park in honor of Barnum after his death, and Marina's front foor opened directly out to that park.  Apparently they did not want to live in the shadow of the Great Showman. 
Needless to say, Pa-Ib came to the United States with Nancy Fish Barnum after her Cairo love story adventure.  When the happy couple moved to Greece, the mummy was donated to the Bridgeport Scientific Society, along with many other PT Barnum artifacts, and housed here at the Barnum Museum.  If mummies could talk, I'm sure Pa-Ib would divulge the true details of the widow's Egyptian romance.