| | |
| --- | --- |
| Posted by Melissa Houston on October 18, 2013 at 9:00 AM | comments () |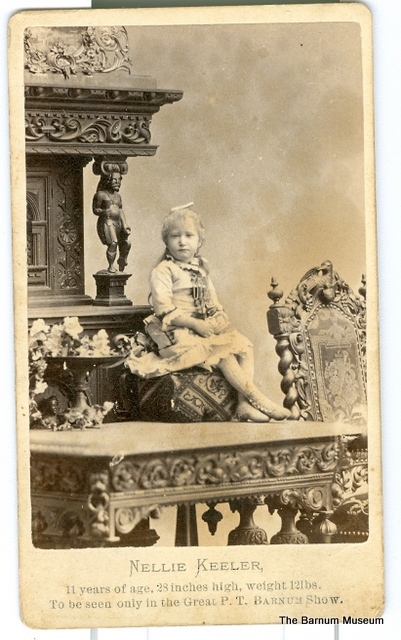 Nellie Keeler: 11 years of age, 28 inches high, weight 12 lbs.
To be seen only in the Great P.T. Barnum Show.

This week's "Photo of the Week" is of Nellie Keeler, a.k.a. "Little Queen Mab". Nellie was born on April 6th, 1875 in Kokomo, Indiana and in 1878 P. T. Barnum hired her as a child performer. When she started working for Barnum, she was just over 2ft tall and weighed only 11lbs. Much to everyone's surprise however, when Nellie was around the age of 12, she had a growth spurt and by the time she was 16 she was a little over 5ft in height. In 1903, Nellie passed away at just 28 years of age from tuberculosis. 
The "Photo of the Week" highlights pictures from The Barnum Museum's collection. These pictures are posted on our website at: www.barnummuseumexhibitions.org, along with a brief description of the person, place or thing within the picture. The "Photo of the Week" can also be found on Facebook.